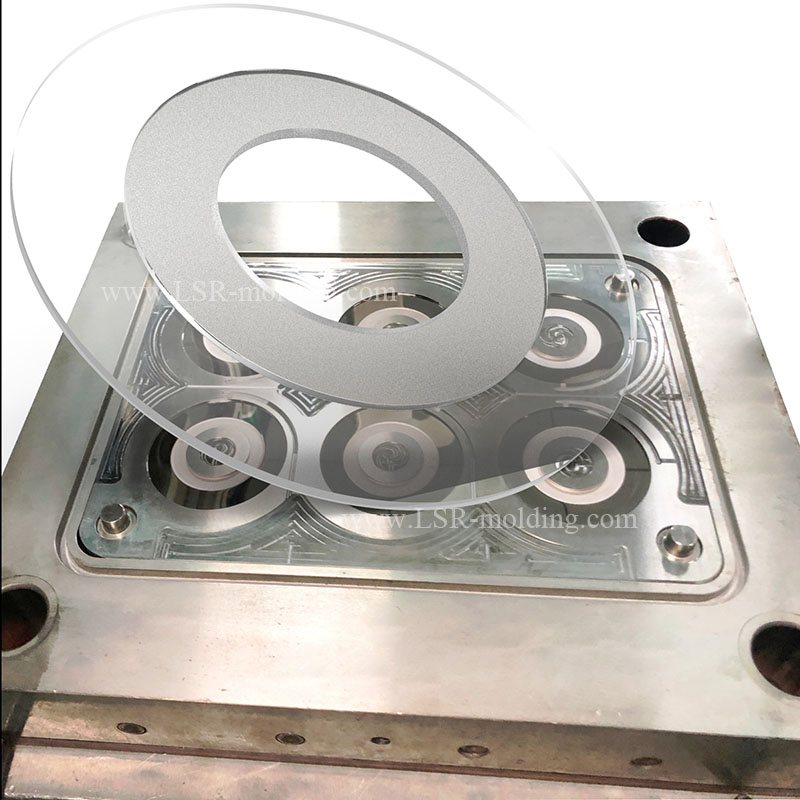 Why Choose LSR & Liquid Silicone for Toilet Washer?
Liquid Silicone Toilet Washer & LSR Washer, which materials is safer than solid silicone and other rubber when contact with water, like Migration of Primary Aromatic and N-Nitrosames is small, easy to pass FDA 21 CFR 177.1210 certification.
FDA 21 CFR 177.1210.PDF

Liquid Silicone Rubber is a two-part platinum-cured silicone, which is a high-purity and non-toxic materials with lower compression set, lower outgassing, wide working temperature, highly tensile strength and highly tear resistance. More infortion, please surf: Liquid Silicone Rubber Materials

Injection Molding of Liquid Silicone Rubber, with less pollution during production compared to compression molded process. LSR materials at a low temperature before it injected into the heated cavities & chambers for vulcanization.

Liquid Silicone Toilet Washer has more Accurate Dimension and Stable Design. LSR toilet washer by Silicone Injection Mold can achieve tolerance ±0.05mm. So LSR Silicone Toilet Gasket have better sealing performance in toilet tank. If the washer dimension is not precise enough, leaking problem will occur. This is why Toilet Flush Valve choose Liquid Silicone as material.
Liquid Silicone Toilet Washer with higher quality compare to solid toilet washer: smooth surface, no obvious flash. And LSR Silicone Flush Gasket as higher tear resistance and tensile strength and is more durable than solid silicone flush gasket seal. So choose Liquid Silicone Flush Valve, you do not to replace Flush Valve frequently. And it saves time and cost in other word.

LSR Silicone Flapper Seal by liquid silicone injection molding is suitable for large volume production. Because silicone injection molding with shorter cure time & cycle, with high production efficiency, so Liquid Silicone is a better choice for mass production.

What is LSR Silicone Toilet Washer?

LSR Silicone Toilet Washer also called as Silicone flush valve gasket seal, Cistern Flush Valve, Flush Valve Washer, Flapper Seal, which is used to form a seal at the bottom of the flush valve. This valve discharges water from the cistern tank when you push the button, turn the handle. Flush Washer is to hold back about 6 litres of water, ready to flush. Snug fit helps to prevent leakage.
Liquid Silicone Toilet Washer's Special Features:

Special thickness and structure fit Outlet Valve Flush Cistern perfectly.


Prevent water from Leaking out from outlet valve into toilet bowl.


High Quality Liquid Silicone can make sure outlet valve have good seling function during static period without any leaking.


Outer diameter and inner diameter is customized according to different types of toilet.

How to install/replace a Toilet Washer?
Step 1: Remove the top of the toilet tank.
Step 2: With a towel nearby, roll-up your sleeves. Flush the toilet to lower the tank water level.
Step 3: Reach into water tank and remove the worn valve seal by pulling it, like an old rubber band, with your finger tips (or pliers) until it breaks.
Step 4: Roll the new seal and stick it through the square trip lever holder and lasso the free end of the trip lever (the opposite end of the lever is attached to the flush lever outside of the tank).
Step 5: Keeping the trip lever through large center hole of the new seal, pull the new seal in the reverse direction back through the square trip lever holder. Turn the trip lever holder as you do this to allow more space to ease the new seal back through.
Step 6: When the new seal is between where the trip lever is connected to tank and where trip lever protrudes through square trip lever holder, for a moment, pull the flexible water refill tube out of the center of the stop cap. Point the free end of it down, as water may still be coming through it after flushing.
Step 7: Gently stretch and pull the new seal all the way down the vertical assembly of the overflow tube and float near the bottom and position it into its top groove of the flush valve.
Our Advantages on Liquid Silicone High Precison Gasket and seal:

One-stop Service: have our own mold making factory,make high precision rubber compression molded, silicone & LSR injection molded parts and also provide simple assembly.
Free Design Analysis Support for Moldability and Manufacturability: we have 3 rich experienced design engineers and will cover your projects from ideas & drawings to actual use.

Clean Production Environment and Sufficient Quality Control tester and equipment.
Customer's Design Protection: Mainly accept custom-made projects according to customers design drawings or samples. We can sign NDA with customers and will not sell customers' products to others.