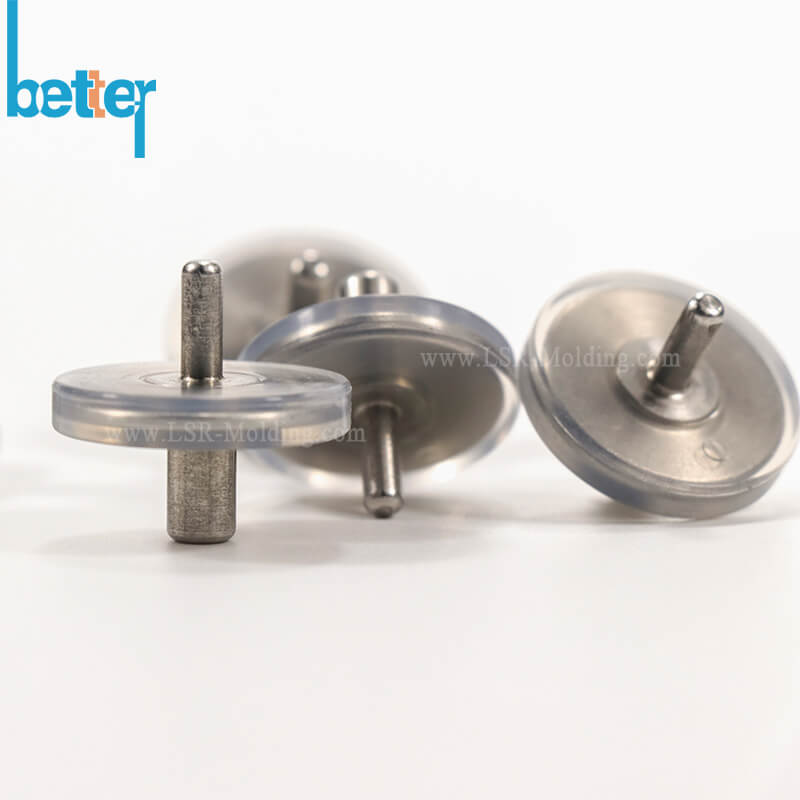 What's Silicone Compression Molding?
Compression molding is one of the most tranditional and oldest silicone rubber manufacturing technique. Silicone Compression molding has been used to
mold silicone rubber parts at the beginning of the rubber manufacturing industry. Silicone compession molding's main process parameters are: molding time, temperature, and pressure. The clamp pressure is about 300-400 tons. Mold temperature is about 170-200°C. Molding time mainly depends on the dimension(mainly is thickness) and structure of product. Compression molding is basically curing in a heated mould cavity under pressure. The preheated material is placed into cavities, mold closed and then cured under pressure.
Normally there are three types of compression moldings: two-plate mold(the most simple mold), three-plate mold : upper and lower mold + middle plate, upper and lower mold with moving core.

Two-plate mold is the most simple and traditonal compression mold, which is suitable for simple structure parts without undercuts,such as silicone seals, silicone o-ring, silicone keypad.
Three-plate mold : upper and lower mold + middle plate, this kind of mold is a good choice for the parts with undercuts. Such as silicone grommet, silicone umbrella valve. For silicone grommet, choose this structure mold, the grommet will have good appearance without large parting line on the surface. But middle plate is not easy to demold, so it's not suitable for high hardness grommet. If the hardness is over 60A, we will suggest to make upper and lower mold with moving core.
Three-plate mold: upper and lower mold + core (moving core), which is mainly for silicone sleeve, and complicated structure parts.
Our Advantanges on Silicone Compression Molded Parts:
Good control of silicone rubber flashing, and flashing can be as tiny as possible. For silicone rubber compression parts, the standard flashing size is :
Rubber Flashing: +-0.2mm
Silicone Flashing: +-0.1mm
While we can achieve +- 0.07-0.08mm. And for some products, we can avhieve +-0.05mm.
For these tiny flashing, we can not see through our eyes, need to amplify to check. Our company have all these complete test equipment and can test and provide test report according to customers' requirements.

Silicone Compression Molding VS Liquid Injection Molding
Silicone Compression Molding's Advantages:

Lower Cost: Compression Mold is simple is cheaper than liquid injection mold. Compression molds are less expensive to use and can provide multiple cavities without costly tooling.
Shorter Mold Making Time:Compression mold making time is about 15-20 days, for some simple parts only 7-10 days is enough. Liquid Injection molding need at least 45-55 days.
Easier maintaining: As the structure of compression mold is simple, it's easier to maintain the mold and it's also easier to set up a new mold. For silicone compression mold, only take about 1 hour to set up a mold, but for liquid silicone injection mold, will take about 1 day to assembly.
More Material Options: Compression molding is suitable for flexible materials, as parts can remain pliable after the curing process. Additionally, thermosets are available to mold multiple cavities. Commonly used materials are: silicone, natural rubber, and EPDM.
High Capacity: Typical compression molding machines have high production capacity. Compression molding gives you a higher output than injection molding because compression mold can have multiple cavities.

Multiple Color Acceptable: Compression molding can test different colors compared to liquid injection molding. Because it's easier to clean the mold and only milling coloured silicone and place into the cavity. But for liquid injection mold, it will take a long time, usually take about half a day to clean the color system and needles, which is time and material waste. So usually don't test different colors by liquid injection molding.
Silicone Compression Molding's Disadvantages:

Slower Cycle Time: Compression mold cycle time is logner than liquid injection molding. The time needed to start and repeat the sequence of operations is about 1-6 minutes; but for injection molding the cycle time can as short as 30 seconds.

Lower Precision: Compression molded parts can not achieve as tight tolerance as Liquid Injection molded parts have. Liquid Silicone molded parts has more accurate dimension and stable design, the tolerance can achieve +-0.05mm. Compression Molded parts can only achieve about +-0.2mm. Please check our Compression Molding Tolerance Standard for reference.

Higher Larbor Cost: Need workers to prepare silicone material, to place the ready material into the cavity, and demold manually. For silicone injection molding process, do not need labor to prepare materail, can almost realize automatilly production.And compression molded parts with rubber flashings, need to trim the flash manually. And for silicone injection molded parts, can almost achieve flashess, so can save labor accordingly.

Production Restrict: This technique is suitable for uncomplicated parts. For higher precision requirement parts, and complicated structure products, can only choose liquid silicone injection mold to process.