LSR Silicone Buttons - Liquid Rubber Keypad Future Trend
Views: 204 Author: Elena Publish Time: 2019-12-09 Origin: Site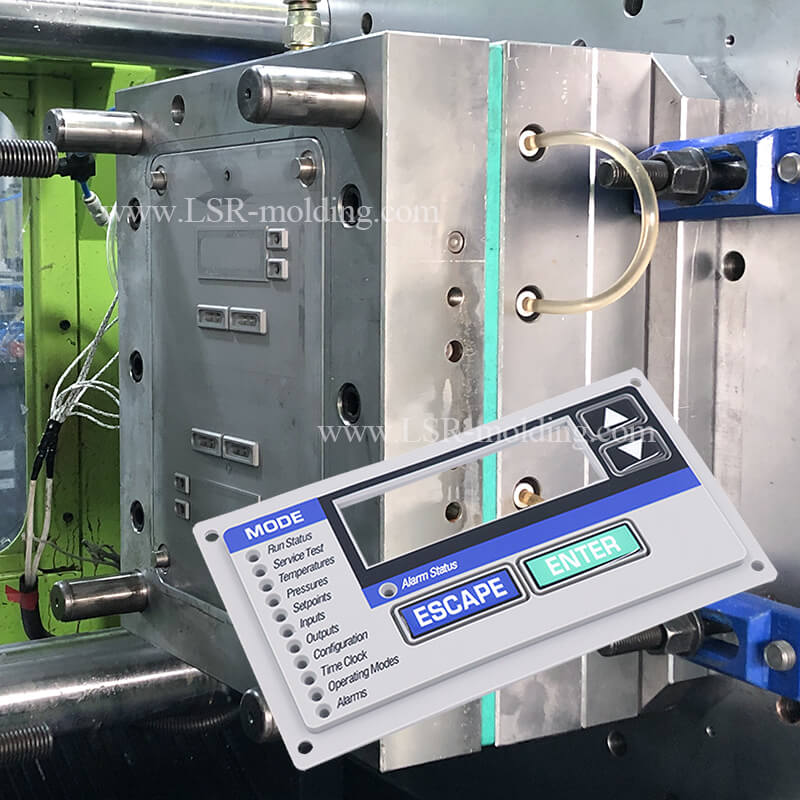 LSR Silicone Buttons, is named as Liquid Silicone Keypad, Liquid Silicone Rubber Buttons, or LSR Keyboard. Liquid silicone rubber injection molding is the main production way. Liquid silicone (LSR) is one of the member of rubber family. Different from solid silicone (HTV/HCV), LSR raw material is gummy liquid rubber before vulcanization. After vulacanization, liquid silicone rubber becomes a elastomer part.
One of the most prominent feature is that liquid silicone keypad has longer mechanical life than solid silicone rubber buttons working life. The rubber button webbing thickness is evenly consistent. So the silicone buttons pad can have a better tactile feedback and are with high-precision dimensions.
Liquid silicone rubber consist of rubber group A and rubber group B. Group A rubber includes methyvinyl silicone rubber and catalyst (transition metal complex, like Pt, Ni, Rh). Group B rubber is made up of methyvinyl silicone rubber and cross-linking agent. Under catalyst, group A mixed with Group B liquid silicone rubber by 1:1, are cured into elastomer geometry part. Platinum catalyst is the most common catalyst in LSR curing. Platinum catalyst is good grade, and won't generate any dangerous smell or other substances. Moreover, it can fully cure liquid silicone.
Liquid Silicone Rubber is clear and without bad smells or poisonous substance. Due to its clear, safe and durability propeties, liquid silicone buttons are widely used in medical and food inductries.
LSR Silicone Buttons are universally applied in many fields, like heavy industrial machine keypad, medical device button pad, automotive keyboard including CAN BUS keypad or marine LSR buttons, or beverage industries.
LSR Silicone Buttons - Future Trend
Why LSR Silicone Buttons is a new tendency in the future? because LSR embrace a numerous good properties compared with solid silicone.
LSR Buttons are durable.
LSR silicone rubber buttons working life increase largely as it is good tensile strength and tear strength. Liquid silicone rubber general tensile strength is about 3.0-11.0 MPa, while its general tear strength is about 11.5-52 kN/m. Its good rebound Elasticity is a key element for rebound of rubber buttons. LSR silicone keypad mechanical life can reach about 10 million operations. Liquid silicone buttons can work in heat or cold environment for a long time, as LSR temperature resistance can be -60°C-250°C。
LSR Silicone Buttons are food grade.
Liquid silicone buttons contains none of lead, cadmium, mercury, hexavalent chromium, polybrominated biphenyl or polybrominated diphenyl. Don't worry the migration of heavy metal or hazardous substance. Thus, liquid silicone keypad is suitable for food and medical field.
Liquid Silicone Buttons are high-precision.
Liquid silicone injection molding is more accurate than compression molding. In addition, LSR production environment and process is clean. LSR rubber buttons are free of burrs and smears. It is easy to control rubber keypad dimensions within tolerance.
Short production time and large volume liquid rubber keypad production
LSR silicone buttons curing cycle time is about 15-45 seconds. Before production, we don't need to mix the liquid rubber. It save much time and force in production. Liquid silicone injection molding can meet large volume rubber keypad requirements.
Liquid Silicone Buttons Structure
LSR silicone buttons geometry is simple, with keys, button webbing, button pad, venting grooves and conductive parts. Conductive parts includes carbon pills, caonductive printing, metal domes, and metal pills. Different graphics on silicone keypad surface can be done with silkscreen printing or laser etching. To have a backlight effect, we generally choose laser ecthing. Then, spray oil coating or PU coating to protect the LSR button surface.
Besides molding and manufacturing, we also offer free design guide for your liquid silicone buttons.