How a duckbill valve works?-- LSR Silicone Duckbill Valve for Breast Pump
Views: 251 Author: Site Editor Publish Time: 2020-03-17 Origin: Site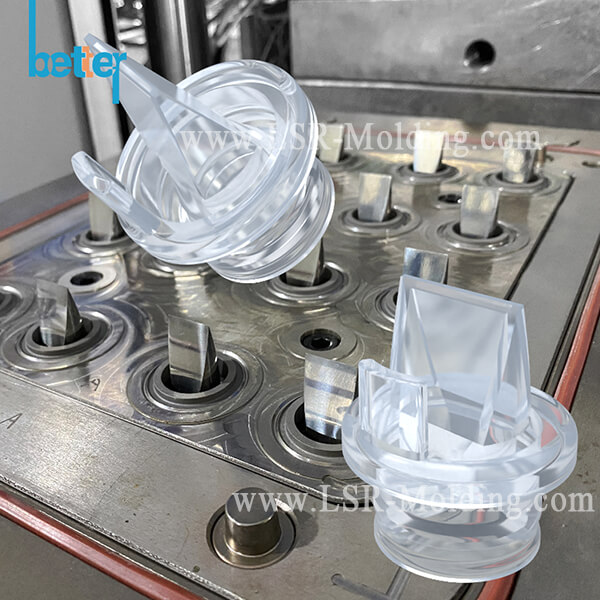 How a duckbill valve works? -- LSR Silicone Duckbill Valve for Breast Pump
Duckbill valve is one kind of non-return valves, check valve, and one way valve, which is designed according to customers' required head loss and flow rate for particular application, which acts as backflow prevention devices and aim to prevent backflow or allow forward flows.
Breast Pump Duckbill Valve is mainly made from FDA food grade liquid silicone rubber materials and molded by LSR Silicone Injection Molding machines. Silicone Duckbill Valve is widely used in breast pump device kits by many baby care company like Ameda, medela duckbill valve, spectra duckbill valve etc.
LSR Silicone Duckbill valves are widely used as fluid control & hydraulic system in automobiles, small machine, electrical appliance and medical areas. Different working environment require different material properties. The most common material is food grade silicone or medical grade silicone. And with the development of silicone industry and customers' higher requirement, more and more people choose to use Liquid Silicone Rubber as material.
Liquid Silicone Duckbill Valve's Advantages:
High Material Safety: Liquid Silicone Rubber is a inorganic nature, which is clean, plasticizer-free, tasteless, odorless and can proof water, resist oxidation and some chemical materials like acids and alkali.
Liquid Silicone Breast Pump Duckbill Check Valves can meet all food grade requirement & certifications like UPS Class VI, FDA 21 CFR 177.2600, BfR XV etc
LR 3038 40 K1 10993-11 E.PDF

Stable Design and Quality: Duckbill check valve of liquid silicone rubebr duckbill valve, which consist of glue A and glue B, which are controlled to be 1:1 ratio dosing device, and fully mixed by a static mixes and then injected into injection mold chambers & tubes. All production process is less or not polluted by workers, and also some injection molded duckbill valve is less or not silicone rubber flashing.
For the special design structure of the Breast Pump Duckbill Valve (the thicker area and thinner tip, which is a difficult point that can achieve by LSR Silicone Injection mold easier, if by compression molding, it's hard to control the thickness of the valve) So for breast pump duckbill valve, more and more customers choose Liquid Silicone Rubber as material not only because of the material safety reason, but also the special design of the breast pump valve.

High Efficiency: LSR Silicone Duckbill Valve by liquid silicone injection mold with Short Cure Time & Cycle can achieve mass production. And because of the no or less rubber flashing on duckbill valve, can also save labor on debur process.

How to detach a silicone duckbill valve from the breast pump?
How often should you replace the duckbill check valves for your baby breast pump?
It mainly depends on how frequently do you use the pump and what setting you are using.
For duckbill valves, you need to replace them every 2-3 months if used once a day or less. If used frequently then need to replace once a month.
For valve membrane, which can not last as long as the duckbill check valves. As membrane valve is thiner and will be wear out easily. So normally need to replace every 1-2 months.