Horizontal Liquid Silicone Injection Molding vs. Vertical LSR Injection Molding - Hot Topic
Views: 155 Author: Elena Publish Time: 2019-11-13 Origin: www.LSR-molding.com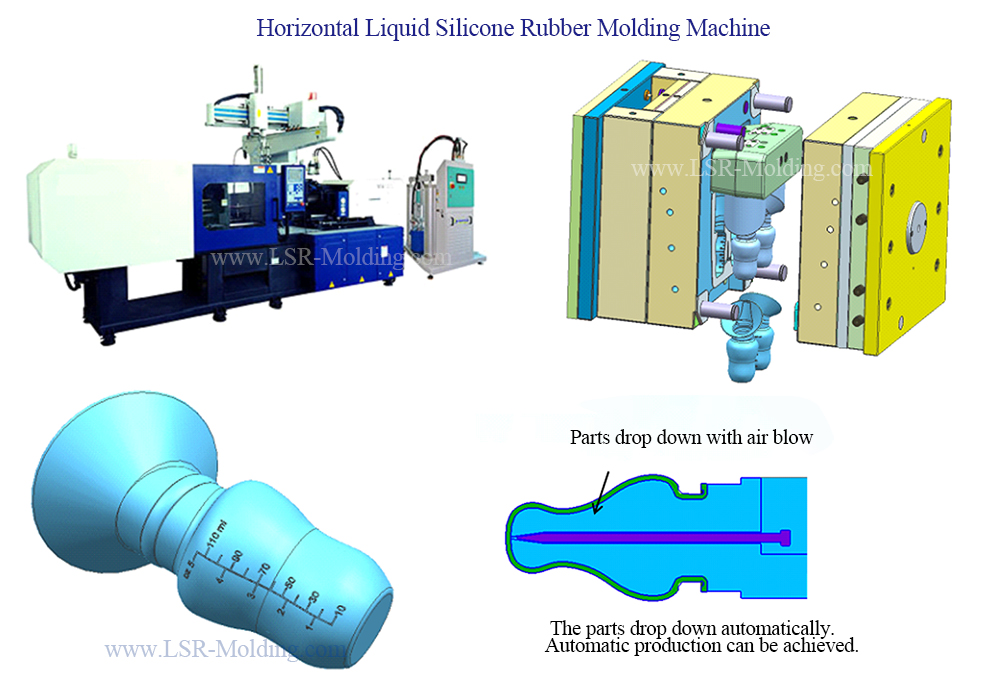 What is Horizontal Liquid Silicone Injection Molding?
Know More About LSR Injection Molding.pdf
Liquid Silicone injection molding can be divided into three types, from the perspective of different manufacturing machines.
Liquid Silicone Transfer Injection Molding - which is used in converted compression molding machine. With a converted injection system, liquid silicone can be automatically injected to the mold cavities in compression molding machine. In this way, we can save labor souce to feed material. This type of mold is cheaper than LSR molding for horizontal and vertical injection machines, but precision is not good as them.
Horizontal Liquid Silicone Injection Molding - which is applied to horizontal LSR injection machine. Structure of horizontal silicone injection molding is more complicate than silicone transfer injection molding. During production, this liquid silicone molding is placed horizontally for easier demoulding of products. Finish LSR products will automatically demould (drop down) with air blow when two mold plates open, or use robot to catch the product from mold cavities.

Vertical LSR Injection Molding - which is for vertical liquid silicone injection machine. This LSR mold structure is same to horizontal one. However, it stands vertically in production and need manual demoulding. Vertical LSR injection molding is suitable to produce overmolding products, like LSR with plastic, LSR with metal part or LSR with glass parts.
How to Choose Liquid Silicone Rubber Injection Molding for Your Products?
Liquid Silicone Transfer Injection Molding - if your products hasn't much high-precision requirements and you don't have much budget for this project, like LSR keypad, disposable liquid silicone baby nippe etc. Transfer LSR molding is good choice. But don't worry the precision of products, they can also meet the ISO3302 CLASS M2 standard.
Horizontal Liquid Silicone Injection Molding - if the product is simple geometry which without deep under cut and is not two-shot product, moreover there are large quantity, horizontal liquid silicone rubber molding can help you save production time. Products includes liquid silicone gasket seals, baby nipples, baby feeding bottles, brush, silicone cake mold, spoon etc.
Vertical Silicone Injection Molding - if your product is two-shot (overmolding) product that need to combine with metal or plastic parts, and has strict precision requirements, vertical LSR injection molding can meet the demands.
To some extent, horizontal and vertical silicone rubber injection molding both can support overmolding products manufacturing, which depends on the products structures and machinery euipments. Horizontal LSR injection mold can also be used in vertical LSR injection machine.
Advantages of Horizontal LSR Injection Molding
High Production Efficeiency - realize automatical production
Save Cost - less labor force and energy saving
Mold Core Replaceable - when LSR molding run our of life service, only need to change the mold core and needle valves. (same as vertical LSR mold)
Cold runner ensure high quality of product, with minimal flashing and high precision. (same to vertical liquid silicone molding)