Half-Mask Respirator
Views: 18 Author: annie@better-silicone.com Publish Time: 2023-03-23 Origin: Site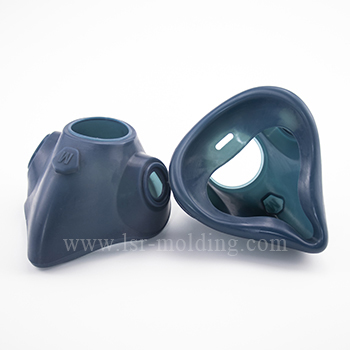 Half Mask Respirator is also called silicone half mask, silicone respirator, silicone face mask, silicone rubber mask, made of medical grade silicone rubber material and can be molded by LSR injection molding/LIM or compression molding, the difference exists in development cost, production capacity, product quality, etc.
How to choose a suitable molding for your silicone respirator mask?
| | | |
| --- | --- | --- |
| Item | LIM | Compression Molding |
| Mold Cost | High | Common |
| Unit Cost | Relatively Low | High |
| Quality | Perfect | Common |
| Production Capacity | High | Common |
Half Mask Respirator made by Liquid Injection Molding (LIM) VS. Compression Molding:
Half mask mold cost is different:
LIM mold cost for half mask is much higher than compression mold for half mask - for half mask requires more mold templates such as clamping plate, piston plate, manifold, insulation plates, spacer block, ejector clamping plate, ejector bottom plate, bottom clamping plate, not similar to compression mold that just need upper plate, mold cores, and lower plate that mold structure is simpler.
Liquid Injection Molding (LIM) for Half Mask
Compression Molding for Half Mask
Half mask unit cost is different:
Unit cost is depend on production capacity and efficiency, half mask unit price made by LIM is cheaper than compression molding.
Regarding LIM mold, for saving unit cost, generally use double-mould injection molding, 6 cavities for one mould. High-Automation Manufacturing extremely increases production capacity so that decrease unit price.
Half Mask quality is relatively different: it is well known that LSR injection molding can manufacture high precision silicone rubber products with very small parting line, and nearly without burrs, which means LIM is more suitable for strictly quality management requirements. If with high purchase volume and quality requirement, LSR injection molding is better choice than compression molding.
LIM Silicone Face Mask
Compression Molding Silicone Half Mask
Silicone Rubber Mask ODM Service:
Liquid silicone rubber mask, half mask
Liquid silicone rubber respirator parts, seals, valves
Compression molding silicone rubber mask
Compression molding silicone rubber parts, seals, valves for respirator
Liquid silicone rubber overmolding with plastic or metal insert
1. 3D design at IGS or STEP format for evaluation.
2. or real samples for evaluation, at least two pieces/sets of samples, one is used for doing 3D scan and making drawings, the other is used for confirming and checking assembly after we finish samples.