Detailed Analysis of Compression Molding and Liquid Injection Molding(LIM)
Views: 526 Author: Site Editor Publish Time: 2021-01-27 Origin: Site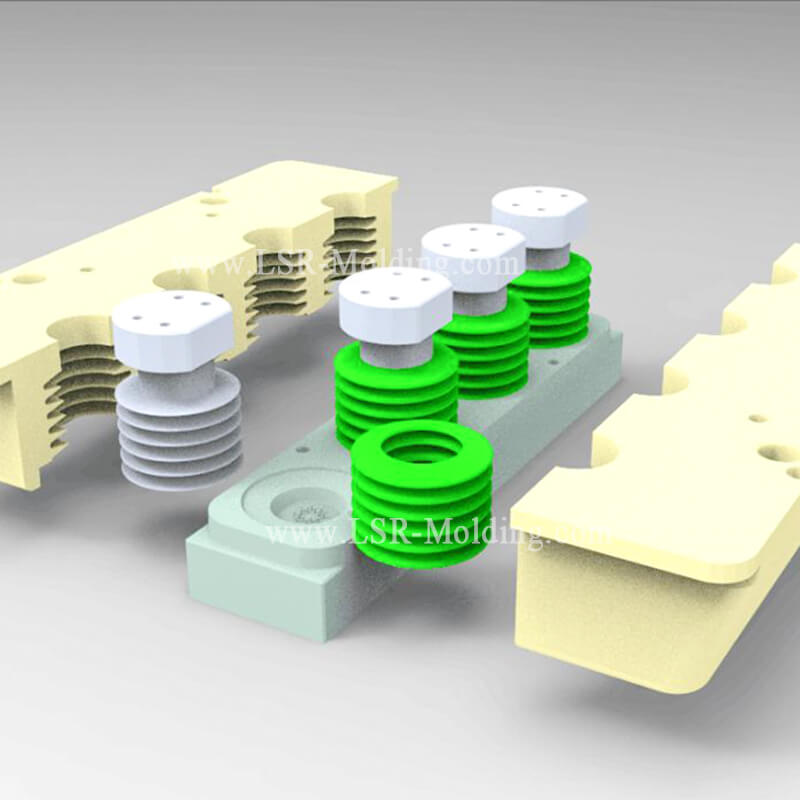 Two Main Methods of Molding Silicone-- Compression Molding and Liquid Injection Molding(LIM)
There are two main methods of molding silicone components:liquid silicone injection molding(LIM) and compression molding

Liquid silicone injection molding (LIM) is an injection molding method of liquid silicone rubber(LSR), which uses High Consistency Rubber (HCR) that is also called gum stock, and LIM uses a high viscosity liquid silicone rubber.
Liquid Silicone Injection Molding' Material: Liquid Silicone Rubber

Liquid Silicone Rubber is a two-part platinum-cured silicone, which is a high-purity and non-toxic materials. LSR parts can meet all food grade and medical requirements or certifications. Good food, water and medical contact, safe applications. LSR is an inorganic nature, which is clean, plasticizer-free, tasteless, and is water proof, can resist oxidation and some chemical materials like acids and alkali. Liquid silicone rubber also resists to bacteria growth, which will not stain or corrode other materials and also burns to form water vapor and carbon dioxide, not halogens, not toxins etc.

Liquid Silicone Rubber consists of two parts, part A and part B. Only one part contains the platinum catalyst. The Part A and B tubes are connected to a dispensing machine that seals the material and uses pressure to pump the material from the original containers into the machine. The material feeding system control the material into each cavity precisely automatically( do not like compression molding, need worker to weight the material manually), which make liquid silicone injection molded parts with higher precision and with less or no rubber flashings.

Liquid Silicone Injection Molding process is shorter than compression molding. The reason why LSR need to add platinum catalyst is that the process time is very short, so don't have enough time to vulcanize completely to make sure 100% FDA grade. To add platinum catalyst can accelerate vulcanize process and kill harmful substance to achieve 100% food safety. And compare with solid silicone compression molding, liquid silicone injection molding also save time to prepare material manually, which not only save manufacturing time but also make sure the material safety.

Liquid Silicone Molding is the a good choice for the Medical Industry because the pails/drum kits of uncured LSR are loaded and sealed into the dispensing machine which can be injected or cured without human contact.
Liquid Silicone Rubber Injection Molding Manufacturing Process:
What's the process of compression molding?

Silicone Compression Molding' Material: Solid Silicone ( milling silicone manually)

Compression Molding is one of the most traditional silicone rubber manufacturing technique. Compression Molding need to preheat under 170-200°C
temperature and curing time depends on the thickness of the product.
Add pigment to silicone directly by labor. Mix silicone and added pigment in a two-mill roll. But this labor process has possibility for contamination of silicone. And after pigment is added and worker will weight the silicone according to the approximate size and configuration of the product. Then can place the weighted silicone directly into the mold cavity. The silicone material will be compressed between top and bottom plates in about 170-200°C temperature and be melt and cured.
Silicone Compression molding is cheaper compared with LSR injection molding. The mold structure is simpler than liquid silicone injection molding. Depends on products structure, compression mold structure contains two-plate mold, three-plate mold ( upper and lower mold + middle plate; upper and lower mold +core (moving core) Compression mold making time is about 15-20 days, and for some simple structure parts such as oring, 7-10 days is enough.

Silicone Compression molding is the simplest form of silicone rubber molding, but it is also an open-air labor intensive process. This allows for the possibility of contamination to get into the silicone.